If you want your Christmas present to be super high quality and handmade, know the right place for you to go.
The best Christmas market in Graz that I know, is on Färberplatz. Everyone there is selling and buying good quality stuff. Also you can listen to the best live music while eating Nutella pancakes.
This market opens every year around Christmas. It is located in the center of Graz, near the Main Square. There aren´t as many people as at the "Christkindl Markt" on the Main Square, but that isn´t a bad thing.
All the little gifts and presents you can get there are very natural and high quality. There are for example beautiful, handmade bonnets, perfumes, wooden toys like animals, colorful Christmas ornaments and stars made of hay.
Every year many different choirs and bands perform live music. They play not only Christmas carols but many different kinds of songs that deliver the message that Christmas is coming.
There is a very good organic food stand present every year. They are mostly known for their delicious pancakes. You can also get hot drinks like punch or mulled wine.
All in all the market on Färberplatz creates a perfect Christmas atmosphere. The music, the smell of pancakes and punch and the beautiful presents make you forget the stress and get exited for Christmas.
Go and check it yourself.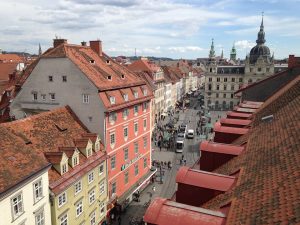 picture sources:
https://pixabay.com/en/stars-lights-christmas-market-1179528/
https://pixabay.com/en/graz-city-styria-austria-homes-1344026/